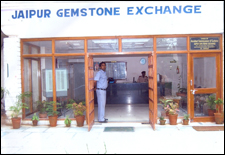 DGDC Group has recently promoted the Jaipur Gemstone Exchange to facilitate import & export of precious cargo. JGE is the only Government of India authorized custodian for the customs clearance of import & export of precious cargo.
JGE has been appointed as Custodianby the commissioner of customs(prev.) Jaipur, at the Air Cargo Complex in Jaipur for clearance of the import and export of aircargo of precious stones, semi- precious stones and jewellery. Officials of Customs undertake examination and clearance of the precious cargo at the JGE premises, at Diggie House in the City.
JGE has created high quality infrastructure at both Diggie House as well as at Jaipur Airport.
Among the facilities offered are
JGE meets a long felt need of a customs' clearance facilities in the Jaipur city, of the local exporting / importing community through this initiative. They can import/export directly to international market through JGE.