About Us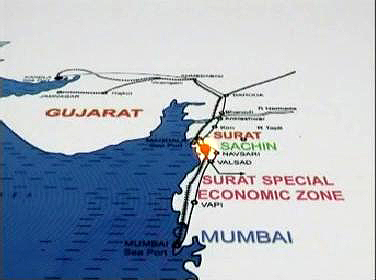 Su

R

SEZ

, the popular name of Surat Special Economic Zone is the main strategic business unit of Diamond and Gem Development Corporation Limited (DGDC). It is in the operation since year 2000 and one of the first Special Economic Zone in the Private Sector. It's a great opportunity for all non-polluting, export oriented industries to set up units in SuRSEZ as it renders many advantages in terms of business and trade. SuRSEZ offers the entire range of fiscal benefits offered by the governments of India, Gujarat and other bodies. These include benefits under Income Tax, Customs Duty, Excise Duty, Service Tax, Industrial Licensing and so on.

Su

R

SEZ

is the First Operating Zone in the private sector in India. The track record of SuRSEZ in the last 5 years speaks for itself. From a level of about Rs.16165 crores in 2017-18, exports from SuRSEZ rose to Rs.20035.90 crores in the year 2021-22. Projected turnover of the Zone for financial year 2022-23 is Rs.25000 crores.
Location :

Su

R

SEZ

enjoys

excellent location

- a vital input for industrial activity. It is located just

14 Kms from the heart of Surat city

and lies adjacent to the Mumbai-Ahmedabad Road and Rail routes.

Infrastructure: All facilities like

water, roads, power, drainage, sewerage, streetlights are in place.

Supporting infrastructure like ICD, Strong Room, Offshore banking facility, etc are also available.
In order to deliver quality services to the unit holders at all times,

Su

R

SEZ

has a

permanent office

fully staffed with competent personnel.

Su

R

SEZ

offers

developed plots and ready units

for entrepreneurs.




Over 250 units are in the Zone. These represent various industry segments including, jewellery making, diamond processing, engineering, textiles, textile machinery, pharmaceuticals and so on.



These units are flourishing due to the locational benefits, cost effectiveness, peaceful environment, competent labour force available in abundance for all industrial sectors and superior infrastructure provided in the Zone.