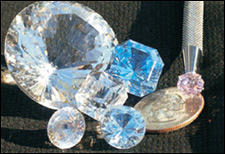 HGP was established in the year 1990 by DGDC. This was initially for units engaged in cutting & polishing of synthetic gemstones and later extended to all types of non polluting industries.
The Park is located at Haldwani, near Nainital, in the State of Uttarakhand. The State is emerging as a preferred destination for non-polluting industries. The large industrial estate at Pantnagar is evidence of this.
The Haldwani Gem Park is spread over 11 acres with suitable infrastructure for all industries. Provision has been made for a range of social amenities including residential and medical facilities. A women's hostel has been created for the benefit of women artisans.
The Developer of the Park, DGDC has set up modern facilities in the Park for Cutting / Polishing of precious and semi-precious stones.